A Simple, Elegant, and Portable Solution for Anyone Using Web Video
A Simple, Elegant, and Portable Solution for Anyone Using Web Video
A Simple, Elegant, and Portable Solution for Anyone Using Web Video
CONNECT with Your Audience
Use with ANY Camera or Monitor
The Must-Have Accessory for
Anyone Using Web Video
Turns Any Monitor into a TELEPROMPTER
Position your Webcam, Mirrorless, or DSLR Anywhere on Your Screen.
Human
Resource Professionals
Webinar Hosts & Organizers
Using PlexiCam® you can position your webcam, mirrorless, or DSLR near your line of sight so that when you are looking at the person you are talking to you're also looking at your webcam.
PlexiCam's® crystal-clear acrylic lets you see right through it to what's on your screen.
PlexiCam® attaches instantly to any monitor and allows your webcam, mirrorless, or DSLR to sit securely on a clear acrylic shelf.
A ring light can be mounted to the PlexiCam® Pro's second shelf.
PlexiCam® is built so that you can configure it into hundreds of configurations for any set-up.
PlexiCam® is designed so that it can even stand on its own with the optional second shelf.
Use with a Mirrorless, DSLR, or Smartphone*
*Requires Optional Smartphone Holder for smartphones or a Plexicam® MAX for DSLR or Mirrorless Cameras.Sold Separately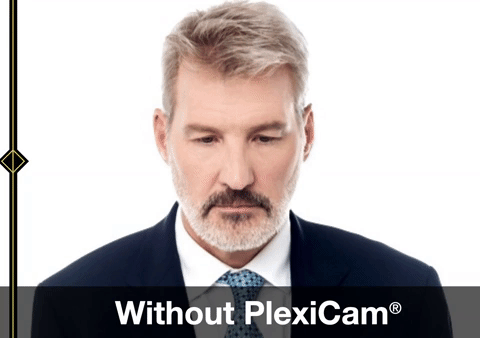 " ...because my cameras are on PlexiCam I'm able to look down the lens and see stuff on the screen. It's a brilliant idea, just a brilliant idea."
- Mark Bowden - Virtual Keynote Speaker, Best-Selling Author, truthplane.com
"I need to look in customers' eyes and occasionally need a TelePrompter when using Zoom. PlexiCam meets BOTH those needs. PLUS they give top-notch customer service."
- Vicki Hitzges, Keynote Speaker
"I love using my Plexicam! It gives me the ability to connect with people more. That's what it is all about. PlexiCam makes that all-important 'eye contact' "
- Terry Brock, Member, Professional Speaker Hall of Fame
"PlexiCam lets you see right through it to what's on your screen. And the adjustable height tray allows the camera to be placed at eye level. I thoroughly recommend it. Their customer service is great too."
- Sonia Araujo, Director, Product Management (Real World Solutions), IQVIA
Simply slide the parts together and rest PlexiCam® over the top of your computer monitor, laptop, or tablet.
In less than five minutes you can have PlexiCam® out of the box and ready to go. Then it takes only a few seconds to move it to another monitor or to pack it up.
FITS ANY MONITOR OR COMPUTER SCREEN
PlexiCam® has been designed to fit any monitor or screen. There are three different models you can choose from; PlexiCam® Mini for laptop screens 15 inches or smaller, PlexiCam® Pro for monitors 15-21 inches, and PlexiCam® Pro+ for 21-27 inch monitors, and PlexiCam® Pro+ with optional extension for 27+ inch screens.
PlexiCam's® patent-pending sleek and elegant design looks great and makes you look great!
WORKS WITH ANY WEBCAM, EVEN YOUR SMARTPHONE*
PlexiCam® is great for almost every webcam. If you are using a high-end webcam with a screw mount, PlexiCam® also comes with a standard .25" UNC 20 Camera Mounting Screw.
*Optional Smartphone holder required and available at checkout.
We make every PlexiCam® in our own USA factory using the highest grade acrylics to ensure that our products are crystal clear, durable, and dependable.
Universal Hanger Fits Securely on any Monitor
Crystal Clear Durable Acrylic
Webcam Shelves Easily Adjust for Optimal View of the Screen
Securely Attach Webcams or a Smartphone with Mounting Adapters
Specially Designed Friction Fit to Reposition Webcam Easily and Securely
Optional Large Bottom Shelf acts as Stand-Alone base with No Monitor
*Plus Shipping and Handling, Additional Cost for Pro+ Extender Option.